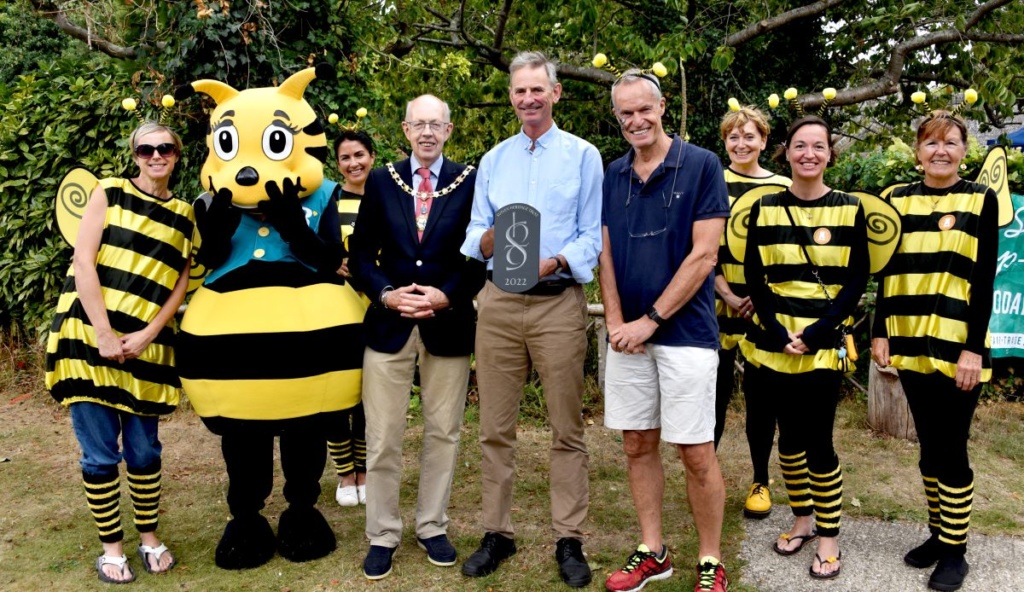 ARUNDEL'S FIRST 'QUEEN BEE DAY' IN PICTURES
CELEBRATING THE ACHIEVEMENTS OF THE ARUNDEL BEE PROJECT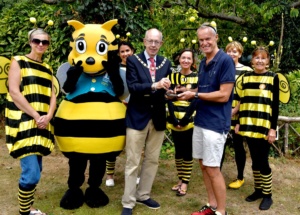 The Arundel Bee Project's founders with their first batch of honey, a circus performer, an interactive storyteller, a face-painting artist, a guest appearance by St Barnabas' Hospice's very own 'Barnabee' and volunteer 'worker bees' together created a hive of activity in Arundel on Saturday 20 August 2022 to celebrate the town's recently awarded 'Bee Friendly Town' status.
The award-winning Pollinators Garden came alive through the day with visitors buzzing to find out more about the importance of pollinators from Nick Field and Doug Hart at the Arundel Bee Project stand.
Two awards were presented during the day – the 'Bee-Friendly Town' award from the Bee Friendly Trust, and the Sussex Heritage Trust Award in the 2022 Public & Community category for the Pollinators Garden.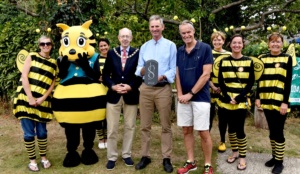 Mayor of Arundel Tony Hunt, Nick Field, Founder of the Arundel Bee Project and Martin Duncan, Head Gardener at Arundel Castle receiving the Sussex Heritage Trust's award for the Pollinators Garden
Town Events Manager Tracy Clayton said,
"Huge thanks to everyone who joined in with celebrating Arundel's first 'Queen Bee Day' – the Arundel Farmers Market traders who decorated their stalls with yellow bunting, the performers and artists providing bee-themed entertainment on the day and the Arundel Festival of the Arts volunteers handing out free wildflower seeds in their bee costumes! It was a fantastic opportunity for the whole town to have fun whilst raising awareness of the importance of bees and other pollinators in our planet's ecosystem."
Families could also join in with the 'Arundel Bee Trail' – a goody bag of treats and a map to follow, leading on an adventure around the town to find all the secret bees and their special letters to spell out buzz-words!
---
Posted on: 30 August 2022